Welcome to Sa'TaMu Chinese Crested Dogs
prcd PRA and PLL Clear
Structure + Balance + Movement + Elegance = QUALITY
THE FIRST CHINESE CRESTED BREEDER IN AUSTRALIA TO prcd PRA TEST
(results 'clear')
TEST RESULTS ARE JUST IN - 20 APRIL 2011
ALL CHINESE CRESTEDS LIVING AT SA'TAMU ARE CLEAR
of PRIMARY LENS LUXATION
(more information to follow)
SaTaMu Kublai Khan - Selected for the cover of the New Zealand Kennel Club magazine! What an honour!
SaTaMu Ghengis Khan and SaTaMu Green Dragon selected to illustrate one of the articles in the New Zealand Kennel Club magazine!
National Dog - Hairless Dog Feature - SaTaMu advertisement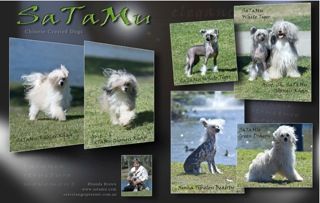 National Dog - Hairless Dog Feature - two of my articles
"Myths and Truths"
"History of the Chinese Crested in Australia"
National Dog - Hairless Dog Feature - my collection of Chinese Crested memorabilia
Sa'TaMu consists of Rhonda Brown and my fun and gorgeous Chinese Cresteds and one Rottweiler, who unfortunately believes she is a Crested. My dogs are part of my family. They live with me in my home, not in kennels.
I show my dogs sparingly and breed occasionally.
I have been involved with the amazing and wonderful Chinese Cresteds for over 15 years. During this time I have learnt so much from some wonderful mentors. There is still so much to learn. It is a never ending processess in the aim to better my breed, one I enjoy.
I am constantly researching cresteds world wide to improve my 'eye' for a quality crested and looking for quality kennels. This search has led me to a select few kennels that have assisted in my improvement of Sa'TaMu Chinese Cresteds.
I would like to thank Sally Johnson of Xioma Chinese Cresteds for the ready availability of Ch Prefix Smoke on the Water, imported from the famous
Prefix Chinese Crested Kennels in Sweden. I would also like to thank Gerd Bastholm of Lohamras Chinese Cresteds in Sweden for allowing me to import
Ch Lohamras Laiza Lemonad (Int Ch Lohamras Dukat v Int Ch Prefix Hotlips).
Haze, Ch Prefix Smoke on the Water, now lives permanently with me here in Queensland.
Sally, thank you so much, I love my 'little Hazel'.
My aim to is breed healthy Chinese Cresteds that come as close the standard as possible. Structure, balance, movement (reach and drive) and elegance - quality Chinese Cresteds!
To this end my dogs are prcd PRA tested, Ophthamologist Tested, hip and elbow scored and patella tested. I currently have four generations of Cresteds that have been health tested with 'clear' results.
Most people look for a dog that will fit into their homes and lifestyle - I look for a home that will suit my cresteds, they need to be dearly loved and cared for by people who are able to make them happy.
The health testing of my cresteds means that they have a much lower risk of developing genetic problems, such as luxating patellas or blindness.
This means vet visits and bills should be less over the life of the dog.
***** I wish to advise that I am no longer co-owner of my home bred bitch Satamu Mo Shu Zhao with Louise Wakefield (Lakenta). This is due to ethical disagreements over health testing and breeding. *****
Sa'TaMu Chinese Cresteds exclusively uses Animal House grooming products.
"I care, therefore I health test"
175911 Visitors